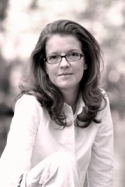 Originally from Canada, Paige has lived in Chile, France, and Mexico, and has spent several months in Belgium, Italy, and Spain.
After completing her undergraduate studies at the University of Toronto, she continued her studies in Paris and obtained a Master's in Linguistics at the Sorbonne and a Master's in Translation at the École Supérieure d'Interpètes et de Traducteurs (ESIT), a translation school that also awarded her certification as a professional translator, le Diplôme de Traducteur.
Upon finishing her studies, she moved to Mexico, to the beautiful colonial city of Guanajuato, where her business has flourished. As a freelance translator, she works with a wide variety of clients and manages projects ranging from books for major publishing houses to magazines for cultural associations.
Work aside, Paige enjoys travel, international cuisine, cinema, photography, and music—fine tunes of 30s and 40s jazz, melodies of elegant Baroque pieces and the exhilarating rhythms of world music.